Use of cow monitoring collars is on the rise, with about 700,000 of New Zealand's 4.9 million cows in milk now thought to be fitted with them – about 14% of the national milking herd.
That number is likely to keep climbing, according to MSD Animal Health Intelligence.
At a technical symposium for veterinarians hosted by MSD Animal Health late last year, Austin Heffernan, national commercial manager, monitoring and automation, told vets the company had supplied 200,000 of the Allflex cow collars in 2022 alone.
In some areas the uptake is higher. Rico Nortje, Rangiora Vet Centre, reported that about 40% of the dairy cows serviced by the practice were wearing some type of collar device.
"It's past the tipping point for us now," he said. Ryan Luckman of Oamaru Vets said about 27% of the dairy farms within their practice, accounting for about 60,000 cows, had collars fitted.
Heffernan said that initially some farmers had felt overwhelmed and intimidated by the sheer volumes of data that could be collected through the collars and were nervous about how to use it.
He said once the message about how to start using the data was boiled down to simply helping identify sick cows so you can quickly do something about it, then the new technology seemed less intimidating, and more farmers started getting on board.
Steph Voice, training specialist lead with Allflex Livestock Intelligence, said dairy farmers were given intensive aftersales training and support after they bought collars for their herds, receiving four free training sessions. The key was to help them create a database in their own system to a level that suited them.
A team of seven training specialists were on hand to help farmers create their own data sets, with training started once the herd was loaded into the system.
Voice said farmers were reassured early on that they could confidently have a play with their data to learn the system without fear that they will accidentally "break" something. "There's nothing that you do that can't be undone," she said.
Using data from the collars for heat detection for AI, and monitoring health indicators, were usually the first applications targeted by new users. Voice said there was a lot of data potentially available, but clients could dial back the amount used until they gained more confidence and discovered other useful applications.
She said the system software generates a warning if a collar has fallen off, or if a collar has gone AWOL for more than 24 hours.
Some farms had readers for the collars only in the shed while others also had readers at different points around the farm, generating more "realtime" data and alerts for at-risk cows.
Rumination Data Provides Useful Insights
Rumination data from the collars can provide useful insights.
Ryan Luckman said cow monitoring collars had thrown light on the crucial transition period. He said rumination data for the period leading up to calving had exposed underfeeding in some herds, meaning it took longer for cows to bounce back after calving. His practice had created an energy balance calculator to help clients use the rumination data to target 90–100% of energy requirements pre-calving, rather than the 60 percent seen on a lot of farms. He said it was important to note when a cow had calved on the day it happens so they could be drafted out of a tight springer paddock promptly.
He said that when a collar generates a lot of health alerts for a herd, the cause can often be traced back to a feeding issue.
Steph Voice said heat detection via the collars came through a combination of activity and rumination data. She noted that the system doesn't detect pregnancy – PD data as well as AI records, calving and culling needed to be entered – but it can detect anoestrous cows. The monitoring collars can also detect "silent heats". She said tail painting is discouraged if the collars are used for heat detection. "It just confuses the issue."
Voice emphasised that the collars shouldn't be used as a proxy for good stockmanship in watching out for issues like mastitis or lameness, but they can help detect issues that otherwise might go unnoticed for a time.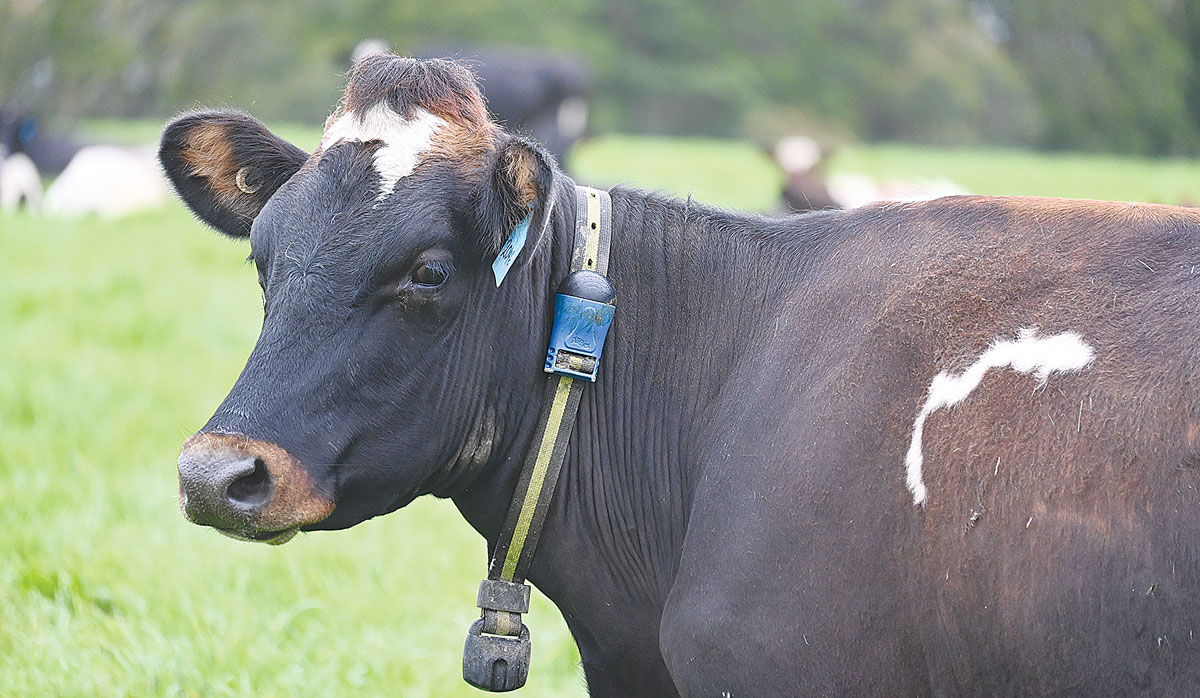 About 700,000 of New Zealand's 4.9 million cows in milk as now thought to be fitted with collars.
This might be through abnormally low rumination rates ("any cow ruminating less than 200 minutes a day is in trouble") or it might highlight a problem such as a twisted stomach, metritis or ketosis, which might not otherwise show up for several days. Issues like heat stress can also be flagged.
Amanda Kilsby, MSD Animal Health Intelligence technical veterinarian, said the technology provides some peace of mind and acts as "another set of eyes" watching the cows alongside skilled farm workers.
She said the technology is accurate and consistent at heat detection.
"For farms that struggle with heat detection, the collars can help the move away from bulls, shorten the mating period, improve submission rates and 3-week in-calf rates, and pick up weak heats and returns late in the mating season when human fatigue usually kicks in."
Source : https://www.ruralnewsgroup.co.nz/dairy-news/dairy-general-news/cow-monitoring-collars-on-the-up